St Ives War Memorial
You may find an entry on the War grave commission site. Click HERE to search their site.
Use the back arrow to return to this page.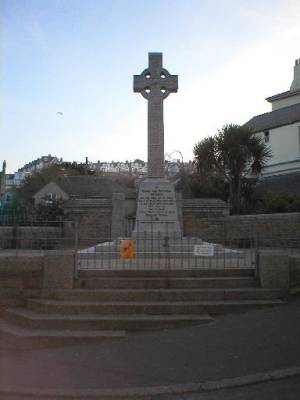 In Proud And Grateful Memory of the Men of ST Ives
who in the world war 1939 - 1945
and in the Great war 1914 - 1918
Gave their all, and in their giving
raised Men's ideals of what
Men may become.
Their Name liveth for evermore
---------------------------------
1914 - 1918 War

HERBERT IVAN BABBAGE - W W BARAGWANATH - STEPHEN BECKERLEG - STEPHEN TREVOR BECKERLEG
SAMUEL BERRIMAN - ARTHUR HARRIS BEST - RICHARD QUICK BIDGOOD - JOHN THOMAS BLEWETT

C. W. BURSTON ?. - Robert Campbell - WILLIAM HENRY CARBINES - G CARE ?. - CHARLES HENRY CHAYTER ?.
JOHN MAURICE CHELLEW - JOHN V COCKING - John Cocking - Charles Couch - JOHN HUSBAND COUCH
Humphrey Couch - ELI BANFIELD CURNOW - RICHARD DATE - George Dunn - Jacob Dunn - PHILIP DUNSTAN ?.
Ernest Edwards - George Farrell - Daniel M Freeman - Samuel Freeman - Frederick George - Geo T Grenfell - W.N. Grenfell
Alex. W Gyles - Edward Hain - Edward S. Hain - W. W. Hannaford - Will Harry - T. Champion Hart - William Hart
W. T. Hitchens - John C Hollow - Thomas R Hollow - Thomas F ? Hollow - James H James - George Jennings -
Frank Johns - Richard Kernick - Richard Lander

Charles Lavers - john Lee - William Lobb - william lord - Henry Lugg J. MacCormack -
Mcwilliams - James Major ? - William Henry mason - Jim May - William Berryman Nicholls -
Alfred Q Noall - B? P? - John Painter - James R. Pearce John Pearce - John Pearce - H Pearce -
Richard Pearce - Tom Pearce - Edward B Peters Joseph Peters - Hugh Phillips -
James Ellery Phillips - T Welch Quick - W.S. richards Robt. H. Roberts - JACOB CARE ROE - Thomas R? -
JAMES RALPH SANDRY MC - G. E. Scott - Peter J. semmens - RICHARD PAYNTER STEVENS -
R. Thomas Stevens ? - Walter stevens - E. R. Taylor - JOHN GLASSON THOMAS - J. T. Thomas -
W. E. Thomas E. ? TORRINGTON - R Toman - JOHN POLMEOR TREVORROW - HENRY PEARCE VEAL
1939 - 1945 War

For more information on the Parish go Here