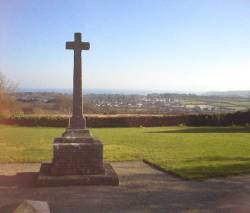 Madron War Memorial
Highlighted names means that I have found an entry on the War grave commission site. Click HERE to search their site. Use the back arrow to return to this page.
These men of ours, unselfish, unafraid, went to the world wide fight.
Forget not how they fought and how we prayed for England and for right.
1914 - 1918 War
Thomas Harvey - William C Jilbert - Arthur O Moore - Hugh Jacka
Archibald P Taylor - Roden N Williams - Thomas V White - Richard T Hall - James P Cattran
Samuel Bridgeman - Reginald O Hocking - James Hocking - Edward Pengelly - John F Cook

Herbert C Hocking Aug, 9th 1917 - William J Retallack ? - Christopher E Gundry ? Richard E Ede
Leslie S. Swithenbank - Cecil James Hosking - William James Nicholson - James Box Mar. 28th 1918
Thomas B Pollard - Norman Tippett - John P Downing - Sidney Broad ? (Memorial Date Apr. 8 1917)
Ernest Mollard - Archibald Nelson Thomas Nov. 7th 1917 - Thomas H Osborne - John J Chappell
Samuel H Bone - William Pooley - William Woodcock - P Kessell - Joseph H Guy - Thomas Denton Apr.2nd 1917
Joseph C Remphry - William Tregear - John F. Curnow - Sidney Harold Mathews May 12th 1917.
Percy Chappell June 11th 1917 - Melville L. Rowe - Arthur U. Hosken -
John Leslie Francis Date on Memorial 20th Oct. 1918 -

John Jordon Jan. 29th 1915 - William H Hosking - Thomas J Sedgman - William Torquill Macleod Bolitho -
Thomas Pollard - George Denton - Walter Nicholls - Thomas Radcliffe 30th Sept. 1915 - William George Uren -
George Tregear Angwin - Leonard Amor - Richard Stone - Thomas Joseph Churchward -
Francis Dominic Brock 12th Oct. 1916 - Geoffrey Richard Bolitho
1939 -1945

R. E. Barr - D Barrett - W. J. Bath - M Bentley ? - D. Byce - J. C. Chappell - C. Dale - W.E.L. Daniel
P.H. Haydon D.S.O. - H G Jennings - C F Jennings - Monica J Ladner - A. Le Grice - G E Nicholls
J D Radcliffe - K J Rich - C G Rich - A Richards - W C E Rundle - A E Sleeman ? - A E Stephens
E J Strick - E R Tregarthen - A K Ware - D W Jennings ( 1948) - H D Nicholls (1949) -
S Richards M.M. (1948) - R G Rundle (1947) - E F Wall (1945) - Rosie Williams -

For more information on the parish click Here