Lelant War Memorial
You may find an entry on the War grave commission site. Click HERE to search their site.
Use the back arrow to return to this page.
0-0-0-0-0-0-0-0-0-0
The Lelant War Memorials for the first & second world wars take the form of windows.
World War One 1914 - 1918
The first world war window is in the south aisle of the church and contains no names but has the following legend:
Thanks to God and in memory of the men of Lelant
who gave their lives in the Great War 1914 - 1918. R.I.P.
The names of the men who died are placed on a framed Roll of Honour next to the window,
Called to make the Supreme Sacrifice
Ernest Albert Firstbrook M.M. WG - William Stuart Gilbart WG -
William Thomas Martin WG
Andreas Neilsen - James Ellery Phillips WG - Charles Gordon Steer WG
James Mathew Trewhella WG
For more information on the above you can visit the excellent web site of Maxwell Adams by clicking HERE . Use your back button to return to this site.
0-0-0-0-0-0-0-0-0-0
Rest eternal grant them, after glorious fight;
Shed on them the radiance of thy heavenly light.
Lead them onward upward to the holy place,
Where thy saints made perfect,
Gaze upon thy face
Amen.
0-0-0-0-0-0-0-0-0-0-0-0-0-0
The Second World War window is in north aisle of the and contains the names of those who lost their lives in the conflict.
Richard J H Mudge WG - Cyril J G Macnaghten WG - James K W Paul WG -
James S Paynter WG E Anderson - Daniel Edwards WG - Hugh D S Dunsford Wood WG -
William B Paul - John C Wilton WG - William J Uren WG
0-0-0-0-0-0-0-0
The First World War roll also contains the names of all those men of Lelant who served in the Army and Navy during the conflict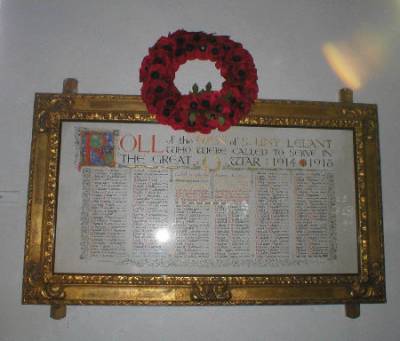 .
0-0-0-0-0-0-0-0-0-0-0
For more information on the parish go here