Gwinear War Memorial
You may find an entry on the War grave commission site. Click HERE to search their site.
Use the back arrow to return to this page.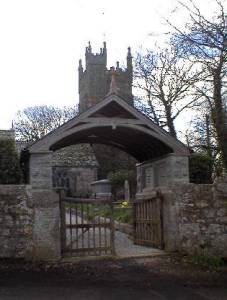 At Gwinear, the Lynch Gate is the War Memorial with the names displayed on either side.
World War 1914 - 1918
To The Glory Of God And In Sacred Memory Of The Men of St Gwinear, Who Lost Their Lives In the Great War 1914 -1918.
"Greater Love hath no man"
W. Brayt - W. T. Banfield - R. J. Banfield - J Barnes - S Chinn - C E Francis
A. Harris - E. J. Harvey - V. Hocking - C. James - W. James - J Lee
J Murphy - E. Rapson - S. Tippett - H. Trevorrow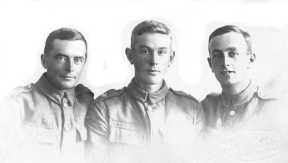 Samuel Nicholas. Tippett -
Samuel Nicholas TIPPETT was born 5 Sep 1897 at Wheal Clowance farm,
Gwinear (Gap-in-the-wall, between Praze an Beeble and Leedstown).
He was the youngest son of Thomas and Sarah Ann TIPPETT.
He was 21 when he was killed on 17th Oct 1918. (I believe that was 3
weeks before the war ended).
The Tippett family bible entry says he was a stretcher bearer, a Private in the 2nd Batallion Royal Dublin Fusileers. Number 28888.
He is buried at Highland Military Cemetary, Le Cateau, France.

He is the centre soldier in the group of three in the photo.
The above information and photograph were kindly provided by Alan Trevarthen. Samuel was Alan's Granny's youngest brother. Alan also wrote, I don't know why he was in an Irish regiment. Perhaps the Army could not understand his Gwinear accent and thought he was Irish.


0-0-0-0-0-0-0-0-0
World War 1939 - 1945
J. D. Ferrett - J. J. Hampton - A. C. Perry - R. N. Masters - T. Rapson - N. Smitheram
0-0-0-0-0-0-0-0-0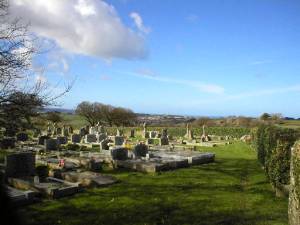 For more information on the parish go Here